Selamat datang di https://phitagoras.com yang merupakan bagian website perusahaan kami, PT. Phitagoras Global Duta, Training and Consulting services, yang kami buat untuk membagi aktivitas yang dilakukan perusahaan kami kepada para pelanggan ataupun pengunjung website kami ini.
Perusahaan kami adalah perusahaan jasa training dan konsultasi di bidang Occupational Health and Safety, Lingkungan, Mutu dan Produktivitas, Laboratorium serta ISO Series (ISO 9001,ISO 14001, ISO 22000, ISO 17025, OHSAS 18001).
Perusahaan kami adalah member dari British Safety Council, Membership Number : 244921-BSC dan juga sudah mendapatkan penunjukan dari Depnakertrans sebagai Perusahaan Jasa Keselamatan dan Kesehatan Kerja, Nomor SKP: 007/DJPPK/PJK3-LAT/III/2010
Perusahaan kami sudah melayani berbagai perusahaan dari berbagai bidang, yaitu oil and gas, pertambangan, manufacturing, pulp and paper, kimia dan petrokimia, industri makanan, services, dll.
Semoga Blog ini bisa bermanfaat bagi kita semua, amiin.
Salam hangat,
Indra Kurniadi
Managing Director
MEMBERSHIP / CERTIFICATION:

ACCREDITATION:
ISO 9001:2015 Certified by British Standards Institution (BSI), certificate no FS 669848, accredited by ANAB and KAN
OHSAS 18001:2007 certified by British Standards Institution (BSI) (Certificate No. OHS 669850) and accredited by ANAB.
The National Examination Board in Occupational Safety and Health (NEBOSH) – UK, Centre No. 789
The Chartered Institute of Environmental Health (CIEH) – UK, Centre No. 63858
British Safety Council Approved Centre, qualification accreditation number: 600/1803/3
Perusahaan Jasa Keselamatan dan Kesehatan Kerja, DEPNAKERTRANS, Nomor SKP: 007/DJPPK/PJK3-LAT/III/2010
"Tempat Uji Kompetensi K3″, certified by ICCOSH (Institute for Certification of Competencies on Occupational Safety & Health) / LSK – K3 (Lembaga Sertifikasi Kompetensi K3) BNSP.
"Tempat Uji Kompetensi K3″, certified by LSP OSHE Nusantara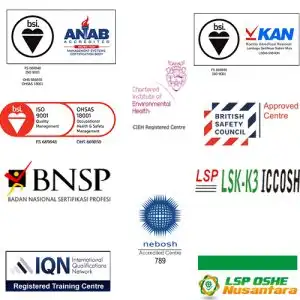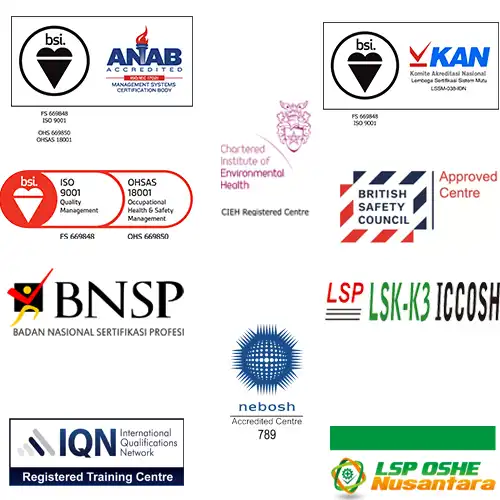 Customer Care :