MENGAPA MEMILIH PHITAGORAS?
Berdiri sejak tahun 2003, Phitagoras merupakan PJK3 Resmi Kemnaker dan satu – satunya QHSE Training & Consulting di Indonesia yang sudah memiliki sertifikat ISO 9001:2015 & OSHAS 18001:2007 dari British Standards Institution (BSI) serta memiliki 3 akreditasi internasional dari NEBOSH UK, CIEH UK dan British Safety Council. Phitagoras juga memperoleh lisensi Tempat Uji Kompetensi BNSP melalui LSP K3 ICCOSH dan LSP OSHE Nusantara.
Training Emergency Response Plan
Ancaman bahaya yang memungkinkan mendatangkan kerusakan besar seperti kebakaran gempa, tsunami, badai, banjir, bahkan demo yang semakin membudaya dilingkungan masyarakat kita. Untuk mengantisipasi kejadian tersebut, perusahaan harus membentuk organisasi tersendiri dalam menghadapi keadaan darurat, apapun bentuknya. Tanpa persiapan yang baik dalam menghadapi keadaan darurat, kepanikan akan terjadi dan kemungkinan kerugian yang lebih besar akan dialami oleh perusahaan. Kesadaran perusahaan tentang kemungkinan adanya bencana yang tidak diharapkan, akan meningkatkan kewaspadaan Perusahaan.
Training Emergency Response Plan ini memberikan advance technique dari incident preparedness dan emergency response programs untuk Industri dan Area Bisnis.
MATERI TRAINING EMERGENCY RESPONSE PLAN
Day 1
Day 2
Day 3
Module 1: Introduction Of Emergency Response  Plan
Module 2: The approach of Layer of Protection Analysis to ERP
Module 3: Plant Layout Strategy design into Muster/Assembly Point Determination
Module 4: National Disaster Management Development and its element
Module 5: Tenability Calculation And FED Decision, An Approach To ERP Route Path
Module 6: Emergency Level Determination Closed To Specific Business/Area
Module 7: Crisis management to improve ERP program Development
Module 8: Hazwoper Implementation into Specific Chemical/Toxic Hazard
Module 9: Emergency management Team Development
Module 10: Chain of Command and Departmental Responsibilities
Module 11: Scenario of Case and Sources of Assistance during emergency
Module 12: On and off area evacuation techniques and facility
TUJUAN TRAINING EMERGENCY RESPONSE PLAN
Setelah mengikuti training Emergency Response Plan ini diharapkan para peserta mampu :
Mengkoordinasikan upaya Perencanaan Tanggap Darurat/ ERP (Kebakaran, Huru hara, Gempa Bumi dlsb) sehingga tercapai efisiensi dan efektifitas dalam pengendaliannya.
Mengatur tata cara dalam pelaksanaan penanggulangan Keadaan Darurat sehingga kerugian perusahaan dapat ditekan seminimal mungkin
Memastikan tindakan pengendalian sesuai Prosedur dan Organisasi ERP .
MANFAAT TRAINING EMERGENCY RESPONSE PLAN
Memahami konsep Perencanaan Tanggap Darurat (ERP) secara efektif sehingga pengendalian bisa dilakukan secara cepat dan tepat.
Mencegah kesimpang siuran dalam menghadapi keadaan emergency (tidak gugup atau panik).
Mencegah terjadinya korban jiwa, kerusakan harta benda dan lingkungannya
Memberikan pemahaman kepada peserta tentang Design, Operation dan Implementasi Emergency Response Plan yang jelas dan efektif
SIAPA YANG PERLU MENGHADIRI TRAINING EMERGENCY RESPONSE PLAN?
Yang perlu mengikuti training Emergency response Plan diantaranya adalah: Ahli Keselamatan dan Kesehatan Kerja, Semua Anggota P2K3, Semua jajaran Manajer dan Supervisor Perusahaan mulai dari Bagian Produksi, Pemeliharaan, Engineering, Analis, Personalia, Pelatihan dan Pengembangan sampai dengan Sekuriti, Semua karyawan yang terkait dan diharapkan dapat membantu melakukan analisa kecelakaan didaerah kerjanya masing-masing.
DURASI TRAINING EMERGENCY RESPONSE PLAN:
21 jam efektif (3 hari kerja)
TRAINER TRAINING EMERGENCY RESPONSE PLAN:
JADWAL TRAINING EMERGENCY RESPONSE 2018
Jakarta, 24 – 26 Januari 2018
Jakarta, 4 – 6 April 2018
Jakarta, 25 – 27 Juli 2018
Jakarta, 21 – 23 November 2018
INVESTASI TRAINING EMERGENCY RESPONSE PLAN
Rp. 8.499.000,- Rp. 6.999.000 
Rp. 6.499.000,- (Pendaftaran & pelunasan 1 minggu sebelum training)
Gratis orang ke 5, untuk pendaftaran 4 orang dari satu perusahaan
Fasilitas Training: Modul Training yang berkualitas (hardcopy dan softcopy), Training Kit, Souvenir, Tempat training yg nyaman di hotel berbintang, Makan Siang, coffee / tea break, Sertifikat, Foto bersama seluruh peserta
LOKASI TRAINING
Untuk melihat lokasi training silahkan klik disini
FAQ ( Frequently Asked Question)
Silahkan klik link ini atau link Frequently Ask Question untuk mengetahui pertanyaan – pertanyaan yang sering dilontarkan seputar Training yang kami selenggarakan.
TESTIMONIAL PESERTA TRAINING EMERGENCY RESPONSE PLAN:
"Pertama tama saya mengucapkan terima kasih kepada PT. Phitagoras khususnya kepada Bapak Soehatman Ramli sbg instruktur training Emergency response Plan dan terima kasih juga pada section logistik & gift juga kepada bapak saroto sampai jumpa dilain waktu dan tempat yang berbeda" Moch Agus Suharman, CNOOC SES Ltd
"Training Emergency response Plan yang telah saya ikuti selama 3 hari ini sangat bermanfaat sekali, semestinya training emergency response plan ini diikuti oleh semua karyawan di manapun berada" Dedi Arman, Petrochina
"Terima kasih kepada PT. Phitagoras yang telah menyelanggarakan training Emergency Response Plan, Materi training Emergency Response Plan ini sangat bagus dan penyampaian oleh instrukturnya sangat jelas dan sangat membantu kami dalam melakukan pengelolaan ERP didalam perusahaan kami" Oom Mukaromah, PT. Jawamanis Rafinasi

Silahkan klik disini untuk melihat testimonial training emergency respons plain (ERP) lainnya.
PERUSAHAAN YANG TELAH MENGIKUTI TRAINING EMERGENCY RESPONSE PLAN:
1.  PT.CNI (Citra Nusa Insan Cemerlang)
2.  PT.Toba Pulp Lestari
3.  PT.Indonesia commet plus (ICON)
4.  PT.Argha Karya Prima Industri Tbk
5.  PT.Sriboga Ratu Raya Semarang
6.  PT.Selamat Sempurna Tbk
7.  PT. Yamaha Music MFG Asia
8.  PT. Multicom Intermitra
9.  PT. Fugro Indonesia – Geotechnics
10. PT. Wastec International
11. PT. Indesso Niagatama
12. PT. Pan Maritime
13. Jasa Marga
14. PT. Bank Permata
15. PT. Matahari Dept. Store
16. PT. Bumitama Gunajaya Agro
17. PT. National Oilweel Varco
18. PT. Asahimas Chemical
19. PT. CNOOC SES Ltd
20. PT. Pupuk Kalimantan Timur
21. PT. Darya – Varia Laboratoria, Tbk
22. PT. Petrochina
23. PT. Jawamanis Rafinasi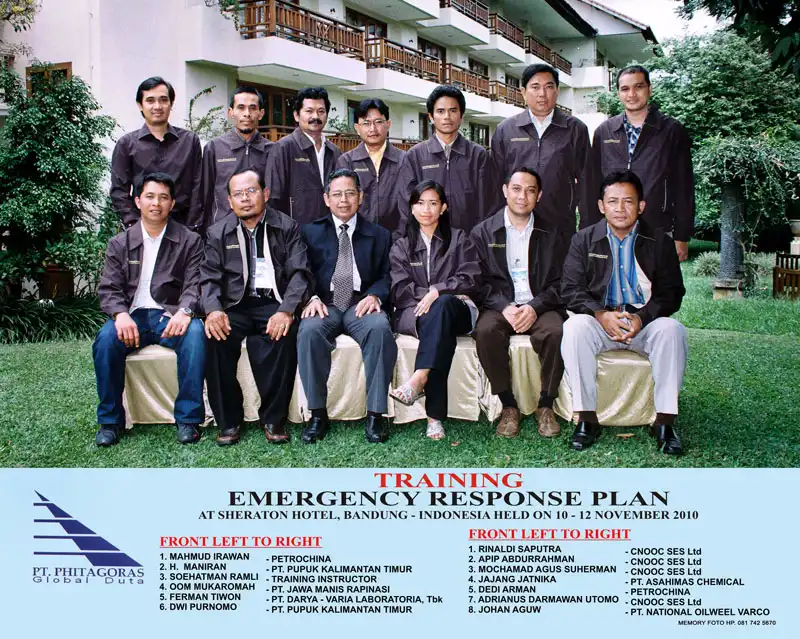 Phitagoras sudah disertifikasi ISO 9001:2015 oleh BSI dengan nomor sertifikat FS 669848 dan OHSAS 18001:2007 dengan nomor sertifikat OHS 669850